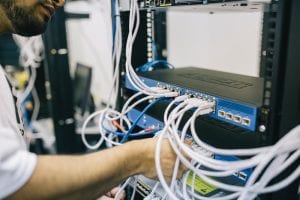 A business operates best when it can effectively function and communicate between its own staff members and outside entities. Whether it be your business's working staff, your supply chain systems, or your business's location, every part of your business contributes to its overall success through communication and functioning. One major component of business that plays an especially vital role in its success is your structured cabling system. Datacomm Nevada is a network cabling company that is able to provide you with affordable technology solutions and services you can trust and rely on. We have fiber optic cabling specialists as well as other specialists in audiovisual solutions and installation.
What is a Structured Cabling System?
Simply put, structured cabling is a method of installing and designing cabling systems to ultimately increase your business's success. As a network cabling company, you could say we know a thing or two about proper installation and design of cables.
Most businesses use a data center that relies on cable connections between two points or hardware that needs to interact with each other (also known as "point-to-point"). Unfortunately, this structure, or lack thereof, usually leads to many problems such as:
Incorrect ports may be tampered or unplugged.
Time may be wasted tracing or untangling one cable among a whole mess of cables.
Incorrectly connected systems.
What a Structured Cabling System Looks Like
As its name goes, a structured cabling system uses a structured approach to organizing connections. Hardware ports are connected to a patch panel at the top shelf of the system. Each panel is then connected to another panel in the trunk of the Main Distribution Area (MDA). The MDA is the nexus of the structured cabling system. Here, all of the moves, additions, and changes (MACs) can be made with short, tangle-free patch cords.
A structured cabling system not only alleviates the unstructured problems presented but provides additional benefits as well.
The Benefits of a Structured Cabling System
A structured cabling system binds all technology and devices within your business together, allowing your business to maximize its potential. It provides a variety of:
Future Proof
As a business grows, its needs change over time. Structured cabling systems provide a scalable and adaptable IT environment that can be upgraded and altered to suit your business's needs. If your business needs to support a new service, you'll want to have an infrastructure that has the capacity to be quickly altered and upgraded.
Cost Effective
A structured data cabling system is a great addition to help cut costs. You'll be spending less time and money on energy, maintenance, and issues. Furthermore, the enhanced capabilities of a structured system mean your employees will have more power to be productive.
More Flexibility
The setup of a structured system allows for more flexibility and easier configuration. Compared to the long, tangled cords of conventional data centers, MDAs allow for quick alterations without the hassle of tracing cords to various hardware. MDAs also lower the chance of human error occurring while making it easier to troubleshoot when, and if it does happen.
Connect with a Network Cabling Company
We hope that this blog has been helpful and informative and you have gained knowledge from a trusted network cabling company with fiber optic cabling specialists. If you are interested in learning more about structured cabling systems or our affordable technology and audiovisual solutions, connect with a specialist at Datacomm Nevada today!